If the abstract submitted to the assembly has been accepted as E-poster, authors should make an E-poster and have it uploaded on the platform prior to the deadline.
All E-poster presenters are required to prepare and upload 1 page of slide
.
In addition, we highly encourage you to pre-record a brief description of your presentation preferably no longer than 2 minutes, using a video recording function, and add to your presentation file. While not required, we are certain that this approach will give you the opportunity to explain your work as well as help you better communicate with the audience.
The following guidelines will help you prepare your E-poster
Preparing 1-Page Slide E-poster (without the pre-record video)
We kindly ask you to create your E-poster using the template below, and upload it to the system before June 16, 2021.
Please make sure to
include the Topic, Title and Presenter's Name, Affiliation, and Country on the slide
.
Download the E-poster Template
- Format:
.ppt
or
.pptx
only
- Size: please limit your E-poster to one slide only and a maximum file size of 20M.
- Please create your document in PowerPoint in Landscape Layout 16×9.
- Hyperlinks, animated images, animations and embedded videos are not permitted.
- When inserting images, photos, tables, etc., use copy-paste. Do not use embedded documents.
- QR Codes may be included

- Avoid overlapping objects and layers. Only the final view/status will be visible.
Preparing E-poster video

1. For authors who also expect to upload a 2 minutes E-Poster video, please refer to the
E-poster Pre-recorded Video Instruction
&
Zoom Self-Recording Instruction
(Click file name to download)
.
2. For authors who only want to record a slide show with narration for your presentation, you can use the two step method covered below:
Step 1: Create Voice over Power point
Step 2: Convert to MP4 (Save a presentation as a video)
Please take a few minutes to read them carefully before submitting your E-Poster video.
Submission Procedure
Submission portal for E-Poster will only open if abstract is accepted.
- Please log into the system with your account and click on the 'Submission Management' button to upload files.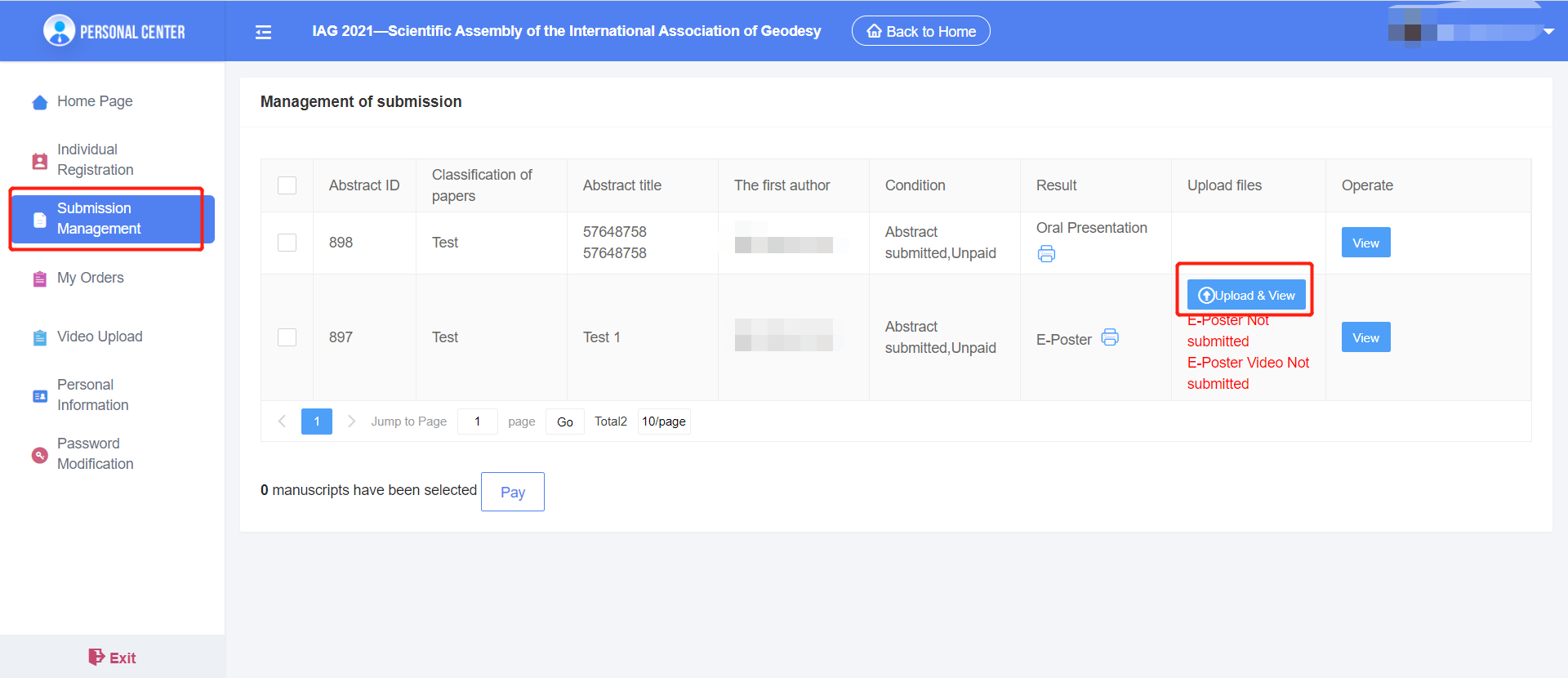 - Deadline for uploading your E-poster: Jun 16, 2021 (1-Page Slide & pre-recorded video)
We advise authors to finalize and upload their E-Poster prior to the deadline.
The portal will be closed, after the deadline. Meanwhile, the technicians required to integrate and sort all the uploaded E-posters so that they could be displayed in the poster gallery, which takes a while to complete.
- Please note that by uploading your E-Poster, you agree to having it published on the IAG 2021 website during the Virtual Assembly and one year following the assembly.
E-poster Discussion Sessions
Posters will be scheduled in dedicated Poster Discussion Sessions.
Authors are expected to be on-line during their session when the posters are introduced.
Click here for guidelines to join Zoom webinar as panelist

Your recorded video will be played at your assigned presentation timeslot.
If you have not uploaded an E-poster video, we will play your 1 Page Slide E-poster
E-poster Gallery Platform
All One Page Slide E-posters as well as pre-recorded video will be displayed in the E-poster Gallery Platform. Within the platform, participants will be able to contact the presenter and ask questions via discussion board to facilitate scientific exchange.
Please note when using the discussion board that it may take a while for author to answer all questions. It will remain open for all participants until the assembly is concluded.
Should you have any questions please feel free to contact us at info@iag2021.com