Registration Process

After having completed the registration and payment, a Confirmation will be sent to the registered email address automatically. If you don't receive this email within 24 hours, please check your spam folders.
| | |
| --- | --- |
| Online registration is closed for IAG 2021 | |
Registration Fee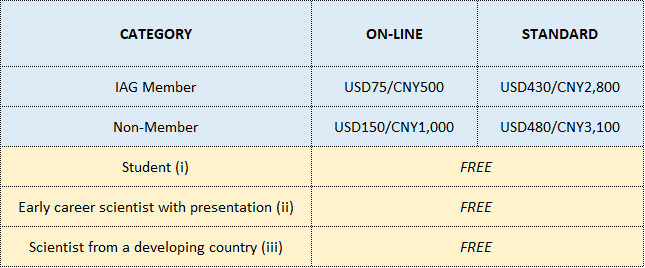 Notes:
1. One delegate can attend per registration.
2. All registration fees quoted above are inclusive of Taxes.
3. Standard Fee: For supporting by Co-organizers in China.

The participation fee will be waived for members of several groups, who must provide valid proofs.
(i) Full-time student from undergraduate to PhD Student please upload a copy of your student certificate.
(ii) An Early-Career Scientist, with age under 35 years, please indicate your date of birth and upload a copy of your ID card (passport front page) when submitting your abstract online. After the review process, an identifying code will be sent following the notification email once your abstract is accepted oral or e-poster presentation in the Symposium. Please Login and select the category, i.e. "Early career scientists with presentations", by entering this identification code to register for free.
(iii) A scientist from a developing country
We have configured the registration system with reference to the List of Developing Countries by World Bank.
If the country you input when registering is on this list, you will see the free registration category.
Click and upload a copy of your ID card (passport front page) to complete your free registration.

The IAG 2021 virtual meeting will offer you a full virtual experience and the opportunity to take part in every aspect of the programme including:

Connect to the meeting using the virtual platform and follow the proceedings in real time.

All sessions will be recorded and posted to the online programme for later view. This is so attendees can access to videos on-demand.
How to Join the Virtual Platform can be found here

Access to all the e-posters. Connect with the abstract authors and other colleagues from around the world through the e-poster virtual consultations. Within the platform, there is a messaging service to facilitate scientific exchange.
Methods of Payment
Fees are payable in advance.
Payment of registration fees can be done via the online registration process through the secure PayEase gateway by credit card (VISA, MasterCard, JCB, China UnionPay).
Delegates who choose to pay in USD cannot use a credit cards issued in China.
For Chinese delegates, please fill in your mobile phone number when registering for RMB payments.
Payment FAQ:
We have recently received feedback from a number of delegates who are unable to pay their registration fee via the online payment platform.It is possible that banks in many countries have now upgraded their security levels and have increased their audits for international payments. As a result, this has led to a decrease in the success rate of international payments by online payment platforms. Even banks in some countries do not support payments through this platform.
The alternative payment method: Bank transfer
We also accept fee via bank transfer, but there will be a high bank charges.
Regarding the bank extra fee, we will bear the "Intermediary Bank Fee" and the "Receiving Bank Deposit Fee".
If you decide to pay via bank transfer, please let us have the details of your organization that required on the invoice.
If you have some problems with the online payment process, please get in touch with us at registration@iag2021.com

Confirmation, Receipt and Invoice
For payments via online please note that authorization and billing will go through PayEase.
A confirmation email will be sent automatically after your on-line registration and payment are completed. Meanwhile, a RECEIPT can be downloaded from your 'personal center-my orders' .
For delegates who choose bank transfer, Please let us have the details of your organization that required on the invoice, we will send an invoice with bank information before your payment.
For Chinese delegates please activate the "Invoice applicable to Chinese delegates" and input your organization or employer information before payment process.
Cancellation Policy
If you decide to cancel your participation in the Assembly, please be sure to notify the Registration Dept. by e-mail (registration@iag2021.com) immediately.
The following cancellation fee will apply, based on the date when the office receives notification of cancellation. All refunds will be made after the assembly.
Cancellations

received

up to and including

23:59 (UTC+8),

May 31, 2021.

—

50% of registration fee will be charged

.

No refund

will be processed

a

fter 00:01 (UTC+8),

June 1, 2021.
Notice:
If you paid via credit card, authorized refunds will be processed to the same credit card through the secure PayEase gateway (transaction fee will be incurred during the transfer process and will be deducted from the refund).

Group Registration
For group registration (10 participants and more), please contact to the IAG2021 Registration Dept.: registration@iag2021.com